A selection of new books on the Holocaust published in June, July and August 2021.
---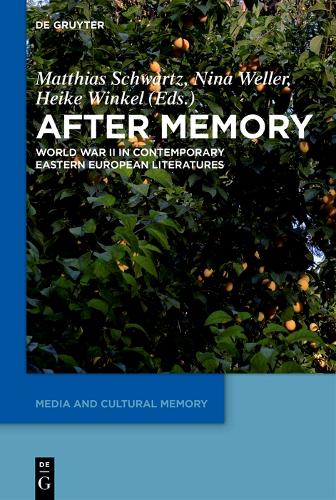 After Memory: World War II in Contemporary Eastern European Literatures – Media and Cultural Memory edited by Matthias Schwartz, Nina Weller, Heike Winkel
From the publisher, De Gruyter:
Even seventy-five years after the end of World War II, the commemorative cultures surrounding the War and the Holocaust in Central, Eastern and South Eastern Europe are anything but fixed. The fierce debates on how to deal with the past among the newly constituted nation states in these regions have already received much attention by scholars in cultural and memory studies. The present volume posits that literature as a medium can help us understand the shifting attitudes towards World War II and the Holocaust in post-Communist Europe in recent years. These shifts point to new commemorative cultures shaping up 'after memory'. Contemporary literary representations of World War II and the Holocaust in Eastern Europe do not merely extend or replace older practices of remembrance and testimony, but reflect on these now defunct or superseded narratives. New narratives of remembrance are conditioned by a fundamentally new social and political context, one that emerged from the devaluation of socialist commemorative rituals and as a response to the loss of private and family memory narratives. The volume offers insights into the diverse literatures of Eastern Europe and their ways of depicting the area's contested heritage.
---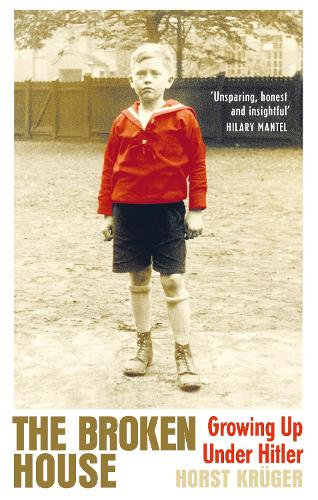 The Broken House: Growing up under Hitler by Horst Kruger and translated by Shaun Whiteside
From the publisher, Vintage Publishing:
In 1965 the German journalist Horst Kruger attended the Auschwitz trial in Frankfurt, where 22 former camp guards were put on trial for the systematic murder of over 1 million men, women and children. Twenty years after the end of the war, this was the first time that the German people were confronted with the horrific details of the Holocaust executed by 'ordinary men' still living in their midst.
The trial sent Kruger back to his childhood in the 1930s, in an attempt to understand 'how it really was, that incomprehensible time'. He had grown up in a Berlin suburb, among a community of decent, lower-middle-class homeowners. This was not the world of torch-lit processions and endless ranks of marching SA men. Here, people lived ordinary, non-political lives, believed in God and obeyed the law, but were gradually seduced and intoxicated by the promises of Nazism. He had been, Kruger realised, 'the typical child of innocuous Germans who were never Nazis, and without whom the Nazis would never have been able to do their work'.
This world of respectability, order and duty began to crumble when tragedy struck. Kruger's older sister decided to take her own life, leaving the parents struggling to come to terms with the inexplicable. The author's teenage rebellion, his desire to escape the stifling conformity of family life, made him join an anti-Nazi resistance group. He narrowly escaped imprisonment only to be sent to war as Hitler embarked on the conquest of Europe. Step by step, a family that had fallen under the spell of Nazism was being destroyed by it.
Written in accomplished prose of lingering beauty, The Broken House is a moving coming-of-age story that provides an unforgettable portrait of life under the Nazis. Yet the book's themes also chime with our own times – how the promise of an 'era of greatness' by a populist leader intoxicates an entire nation, how thin is the veneer of civilisation, and what makes one person a collaborator and another a resister.
---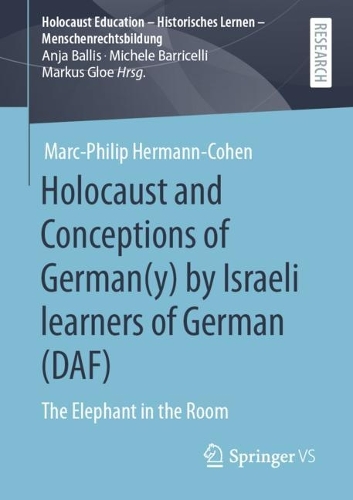 Holocaust and Conceptions of German(y) by Israeli learners of German by Marc-Philip Hermann-Cohen
From the publisher, Springer Fachmedien Wiesbaden:
The Holocaust is inseparable from the Israeli identities even seven decades following the atrocities during World War II, Israeli daily life is shaped by the horrible crimes committed by the Nazis. This book conceptualizes the intricacies of the Israeli identity in relation to learning German as a foreign language (GFL) in Israel throughout the course of history and the changing conception of Germany. This book includes an analysis of a selection of twenty-five GFL language books which reflect the stigmatization and tabooization of the Holocaust and also the qualitative analysis of a subject pool of 105 learners of GFL. The author finds that identities are co-constituted by four individualized Thought Styles, a concept borrowed from Ludwik Fleck. Thought Styles capture the individual perspective of the language learner's view of Germany and are categorized in this thesis as German Engineering, Cold Germany, Neo-Nazi Germany, and The Other Germany. The research draws from discourse theory, critical psychology, and the oft-overlooked classical theory of Ludwik Fleck. Although the relationship between Germany and Israel has been amicable for the last six decades, the choice for Israelis to learn the language that was used by a nation that once attempted to eradicate the Jewish people is emotive and infinitely complex.
---
Holocaust Holiday: One Family's Descent into Genocide Memory Hell by Rabbi Shmuley Boteach
From the publisher, Permuted Press:
In 2017, renowned author and celebrity rabbi, Shmuley Boteach, decided to take his family on a European holiday. But instead of seeing the sights of London or Paris, he took his reluctant-and at times complaining-children on a harrowing journey though Auschwitz, Treblinka, Warsaw, and many other sites associated with Hitler's genocidal war against the Jews. His purpose was to impress upon them the full horror of the Holocaust so they would know and remember it deep in their bones. In the process, he and his children learn a great deal about the scope and nature of the European genocide and the continuing effects of global hatred and anti-Semitism. The resulting memoir is an utterly unique blend of travelogue, memoir and history-alternately fascinating, terrifying, frustrating, humorous, and tragic.
---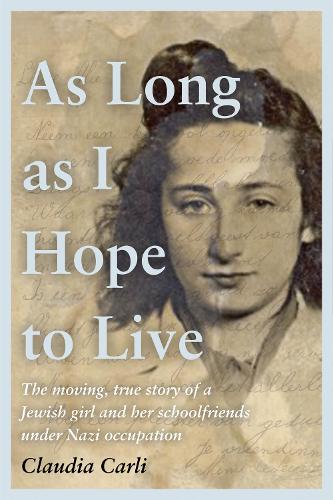 As Long As I Hope to Live: The moving, true story of a Jewish girl and her schoolfriends under Nazi occupation by Claudia Carli
From the publisher, Hodder & Stoughton:
Through the discovery of a precious friendship album which belonged to 12-year-old Alie, a Jewish schoolgirl in Amsterdam, Claudia Carli has traced and preserved the lives of an entire class of girls, most of whom did not survive the War.
Alie and her friends are brought touchingly and vividly to life, along with their writings, in this extraordinary book. Their everyday hopes, pleasures and longings are offset by the constant fear of a knock on the door, a missing friend from class, a family member taken away.
Alie and her mother were to die in Sobibor in 1943. Alie's sister Gretha survived Auschwitz and kept her promise to her sister to preserve the friendship album so long as she hoped to live. This book will sit alongside Anne Frank's diary and The Cutout Girl as a unique window into occupied Amsterdam and the girls who will now never be forgotten.
---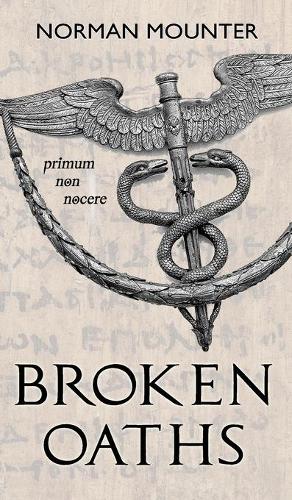 Broken Oaths by Norman Mounter
From the publisher, Burton Mayers Books:
Heidelberg, 1938. Doctor Sarkany's career is crumbling. The once eminent pathologist begins to lose everything that he holds dear – his reputation, position and pride. But what of his wife, Eva? What of his twin daughters and unborn son? Surely his family are more important than any profession? His vanity and covetousness do not see it that way. He blames his Jewish wife for his downfall. Sarkany's marriage vows matter less to him than his doctor's oath as he begins to desecrate them both with adultery and Nazi ideology. He will do anything to get his career back: bribes, lies, sex, abortions… perhaps the life of his very own flesh and blood. But all is in vain. After fleeing to Hungary, the German invasion of 1944 sees the family incarcerated in the Munkacs Ghetto before being finally crammed into Eichmann's cattle cars destined for Poland. Sarkany has betrayed his family, but can he betray his own people when he arrives outside the crematorium gates of Auschwitz-Birkenau? Dr. Josef Mengele thinks he can. And in Auschwitz, Mengele is King.
---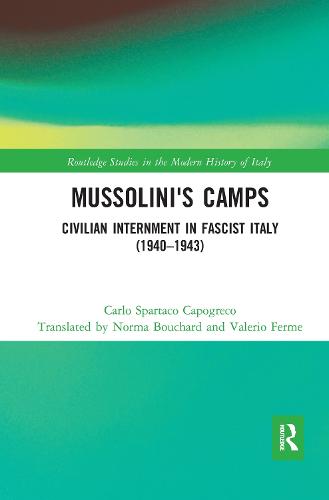 Mussolini's Camps: Civilian Internment in Fascist Italy (1940-1943) by Carlo Capogreco
From the publisher, Taylor and Francis:
This book-which is based on vast archival research and on a variety of primary sources-has filled a gap in Italy's historiography on Fascism, and in European and world history about concentration camps in our contemporary world. It provides, for the first time, a survey of the different types of internment practiced by Fascist Italy during the war and a historical map of its concentration camps.
Published in Italian (I campi del duce, Turin: Einaudi, 2004), in Croatian (Mussolinijevi Logori, Zagreb: Golden Marketing – Tehnicka knjiga, 2007), in Slovenian (Fasisticna taborisca, Ljublana: Publicisticno drustvo ZAK, 2011), and now in English, Mussolini's Camps is both an excellent product of academic research and a narrative easily accessible to readers who are not professional historians. It undermines the myth that concentration camps were established in Italy only after the creation of the Republic of Salo and the Nazi occupation of Italy's northern regions in 1943, and questions the persistent and traditional image of Italians as brava gente (good people), showing how Fascism made extensive use of the camps (even in the occupied territories) as an instrument of coercion and political control.
---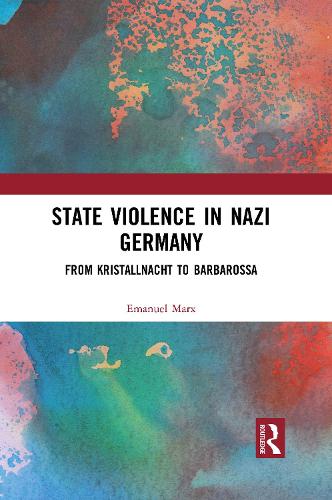 State Violence in Nazi Germany: From Kristallnacht to Barbarossa by Emanuel Marx
From the publisher, Taylor and Francis:
Through analyses of three eventful years in Nazi Germany's history – the Kristallnacht pogrom, the invasion of Poland and the invasion of Soviet Russia – this book explores the violence of states. All three events were part of the Nazi colonial project and led to mass killings, eventually resulting in the systematic murder of Jews becoming a major war aim – one that Germany would pursue to the end, even when it became clear that the military conflict could no longer be won. Drawing on voluminous historical and sociological literature, as well as documentary and contemporary evidence, the author presents a new account of the phenomenon of extreme state violence as a special category of violence, in which the armed forces, maintained in a state of readiness, are used unnecessarily and excessively, often on thin pretexts, and, unlike coercive violence, only rarely for the purposes of carrying messages to the public. As such, it will appeal to scholars of sociology, history and anthropology concerned with mass and state violence.
---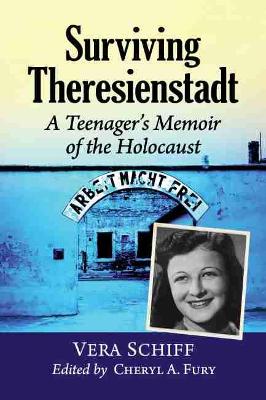 Surviving Theresienstadt: A Teenager's Memoir of the Holocaust by Vera Schiff
From the publisher, McFarland and Co:
When the Nazis invaded Czechoslovakia in 1939, Vera Schiff and her family were sent to Theresienstadt. Touted as the "model ghetto" for propaganda purposes, as well as to deceive Red Cross inspectors, it was in fact a holding camp for famous Jews–in case the world was to inquire. For the rest, however, it was the last stop on the way to the gas chambers. Those "lucky" enough to remain faced slave labor, starvation and disease.
Shiff's intimate narrative of endurance recounts her family's three years in Theresienstadt, the challenges of life under postwar communism, and her escape to the nascent and turbulent state of Israel.
---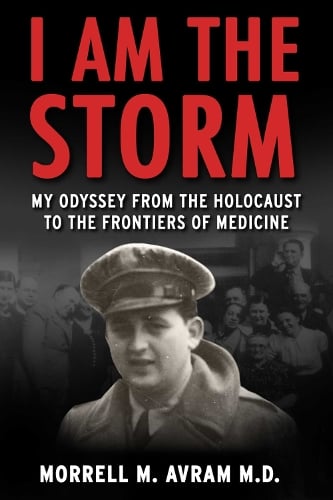 I Am the Storm: My Odyssey from the Holocaust to the Frontiers of Medicine by Morrell Michael Avram
From the publisher, Skyhorse Publishing:
Morrell Avram, born in Bucharest, could have easily become one of the 200,000 Romanian Jews killed by the German Nazis or their Romanian allies. I AM THE STORM is the riveting true story of how he survived-and later triumphed as a pioneering doctor-through a combination of grit and persistence. At age 11, Avram was separated from his mother and baby sister because the US Embassy would only allow them to immigrate on the condition that they leave Morrell and his father behind. What the family hoped would be a brief separation became six terrifying years. Amid the horrors of the war, Morrell had to fend mostly for himself, shuttling from relative to relative, hiding place to hiding place. Among his close calls: He longed to buy a ticket on the Struma, a ship taking Jewish refugees from Romania to Palestine, that was torpedoed and sank along with many of his friends. He walked into his bar mitzvah ceremony with dozens of Nazi soldiers stationed outside the synagogue. He was strafed and nearly killed by an American warplane. Upon finally escaping Romania and reuniting with his mother and sister, Avram faced a host of new challenges in New York. After getting through high school with minimal English, he was thrilled to get into college but found it impossible to juggle classes while working to help support his family. By age 21, it looked as if his dream of becoming a doctor was doomed. But relief came from an unlikely source-a draft notice from the US Army, which transformed him from an anxious "subway rat" into a focused soldier, driven by the words of his drill sergeant: "You are the storm! You are invincible!" Avram's unlikely journey continued as a med student in Brussels and Geneva, as a young doctor in Brooklyn, and as one of the leaders of the new field of nephrology. He became a pathbreaking specialist in dialysis and kidney transplants, saving tens of thousands of patients personally and millions more through treatments he helped devise.
---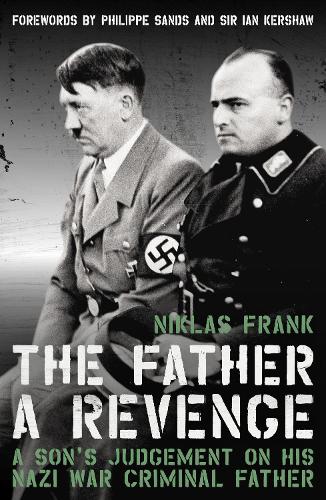 The Father: A Revenge by Niklas Frank
From the publisher, Biteback Books:
Niklas Frank was just seven years old when his father, Hans Frank, Hitler's legal adviser and Governor General of occupied Poland, was executed at Nuremberg as a Nazi war criminal.
Throughout his life, Niklas has attempted to come to terms with the enormity of the crimes his father committed, and this remarkable book traces how after years of research he uncovered the extent of the horror unleashed by the man who was known as the butcher of Poland.
The Father is an extraordinary account of a scarred son struggling to comprehend the depravity of the acts that were committed by his father. Whereas other descendants of Hitler's henchmen and co-collaborators have tried to explain or to forget the crimes of their forebears, Niklas's disgust for his father's actions is unremitting. This book is his attempt to seek revenge.
Featuring forewords by Philippe Sands and Sir Ian Kershaw, The Father is by turns shocking, twisted and heart-rending; a devastating settling of accounts written by a son addressing his father as he pictures him burning in the eternal fires of hell.
---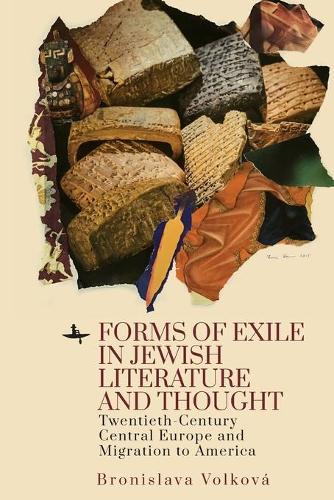 Forms of Exile in Jewish Literature and Thought: Twentieth-Century Central Europe and American Migration by Bronislava Volkova
Forms of Exile in Jewish Literature and Thought deals with the concept of exile on many levels-from the literal to the metaphorical. It combines analyses of predominantly Jewish authors of Central Europe of the twentieth century who are not usually connected, including Kafka, Kraus, Levi, Lustig, Wiesel, and Frankl. It follows the typical routes that exiled writers took, from East to West and later often as far as America. The concept and forms of exile are analyzed from many different points of view and great importance is devoted especially to the forms of inner exile. In Forms of Exile in Jewish Literature and Thought, Bronislava Volkova, an exile herself and thus intimately familiar with the topic through her own experience, develops a unique typology of exile that will enrich the field of intellectual and literary history of twentieth-century Europe and America.
---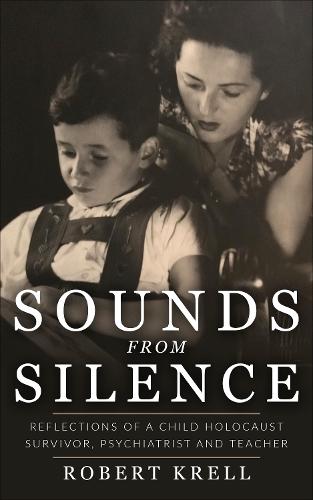 Sounds Sounds from Silence: Reflections of a Child Holocaust Survivor, Psychiatrist and Teacher by Robert Krell
From the publisher, Amsterdam Publishing:
Krell blends memoir and memories, recalling his experiences as a child Holocaust survivor in The Netherlands and how this influenced both his life and work. Sounds from Silence is an important read that reminds readers of how vital it is that we continue to learn about the Holocaust.
Dr. Robert Krell was born in Holland and survived the Holocaust in hiding. In 1951, his family moved to Vancouver, Canada. Robert became professor of psychiatry at the University of British Columbia, often treating Holocaust survivor families and Dutch survivors of Japanese concentration camps. He established a Holocaust Education program for high schools in 1976, an audio-visual documentation program recording survivor testimony in 1978, and helped found child Holocaust survivor groups in 1982. He was founding President of the Vancouver Holocaust Education Centre which teaches 20,000 students annually. Robert has authored and co-edited ten books plus numerous book chapters and articles. He continues to write and speak on Holocaust related concerns. For his life-long work in Holocaust education, remembrance and human rights, his recognitions include the Elie Wiesel Holocaust Remembrance Medal and the Order of Canada. Robert is married to Marilyn and they have three children and nine grandchildren.
---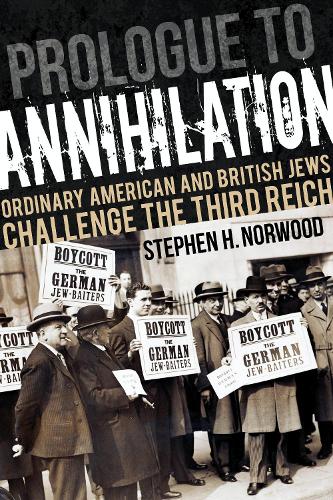 Prologue to Annihilation: Ordinary American and British Jews Challenge the Third Reich by Stephen H. Norwood
From the publisher, Indiana University Press:
American and British appeasement of Nazism during the early years of the Third Reich went far beyond territorial concessions. In Prologue to Annihilation: Ordinary American and British Jews Challenge the Third Reich, Stephen H. Norwood examines the numerous ways that the two nations' official position of tacit acceptance of Jewish persecution enabled the policies that ultimately led to the Final Solution and how Nazi annihilationist intentions were clearly discernible even during the earliest years of Hitler's rule.
Further, Norwood looks at the nature and impact of American and British Jewish resistance to Nazi persecution and the efforts of Jews at the grassroots level to press Jewish organizations to respond more forcefully to the Nazi menace. He examines the worldwide protest and boycott movements against Germany and German goods as well as mass demonstrations by working-class and lower-middle-class Jews in many American and British cities.
Prologue to Annihilation details how the events of 1930-1936 tested American and British societies' willingness to accept Nazism and its anti-Jewish philosophy and illuminates the divisions that existed even within the Jewish community about how best to challenge Nazi antisemitic policies and atrocities.
---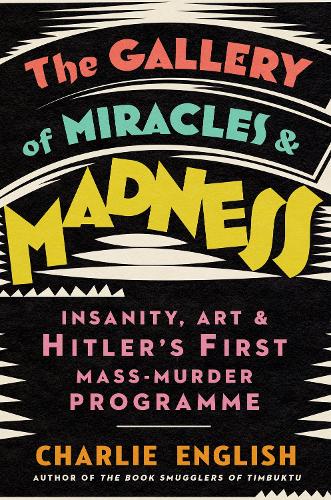 The Gallery of Miracles and Madness: Insanity, Art and Hitler's First Mass-Murder Programme by Charlie English
From the publisher, HarperCollins:
In the first years of the Weimar Republic, the German psychiatrist Hans Prinzhorn gathered a remarkable collection of works by schizophrenic patients that would astonish and delight the world.
The Prinzhorn collection, as it was called, inspired a new generation of artists, including Paul Klee, Max Ernst and Salvador Dali. What the doctor could not have known, however, was that these works would later be used to prepare the ground for mass-murder.
Soon after his rise to power, Hitler-a failed artist of the old school-declared war on modern art. The Nazis staged giant 'Degenerate Art' shows to ridicule the avant-garde, and seized and destroyed the cream of Germany's modern art collections. This action was mere preparation, however, for the even more sinister campaign Hitler would later wage against so-called "degenerate" people, and Prinzhorn's artists were caught up in both.
Bringing together inspirational art history, genius and madness, and the wanton cruelty of the fanatical "artist-Fuhrer", this astonishing story lays bare the culture war that paved the way for Hitler's first extermination programme, the psychiatric Holocaust.
---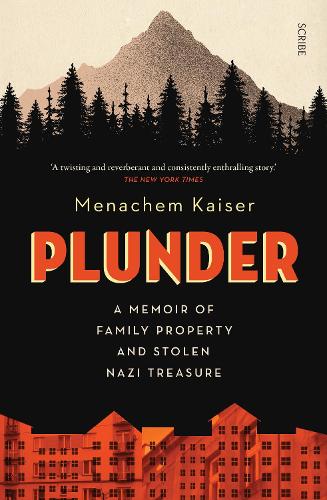 Plunder: a memoir of family property and stolen Nazi treasure by Menachem Kaiser
From the publisher, Scribe:
An unputdownable tale of one man's quest to recover his family's property, plundered by the Nazis.
Menachem Kaiser's brilliantly told story is set in motion when the author takes up his Holocaust-survivor grandfather's former battle to reclaim the family's property in Sosnowiec, Poland. Here, he meets a Polish lawyer known as 'The Killer' who agrees to take his case and becomes involved with a band of Silesian treasure-seekers, all the while piecing together his family's complex history.
Propelled by rich, original research, Kaiser immerses readers in profound questions that reach far beyond his personal quest. What does it mean to seize your own legacy? Can reclaimed property repair rifts among the living?
Plunder is both a deeply immersive adventure story and an irreverent, daring interrogation of inheritance – material, spiritual, familial, and emotional.
---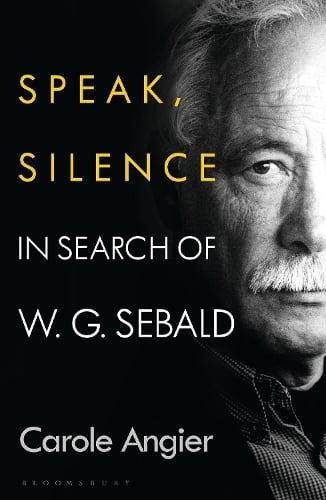 Speak, Silence: In Search of W. G. Sebald by Carole Angier
From the publisher, Bloomsbury:
The long-awaited first biography of W. G. Sebald. Sebald was one of the most extraordinary and influential writers of the twentieth century. Through books including The Emigrants, Austerlitz and The Rings of Saturn, he pursued an original literary vision that combined fiction, history, autobiography and photography and addressed some of the most profound themes of contemporary literature: the burden of the Holocaust, memory, loss and exile. The first biography to explore his life and work, Speak, Silence pursues the true Sebald through the memories of those who knew him and through the work he left behind. This quest takes Carole Angier from Sebald's birth as a second-generation German at the end of the Second World War, through his rejection of the poisoned inheritance of the Third Reich, to his emigration to England, exploring the choice of isolation and exile that drove his work. It digs deep into a creative mind on the edge, finding profound empathy and paradoxical ruthlessness, saving humour, and an elusive mix of fact and fiction in his life as well as work. The result is a unique, ferociously original portrait.
---
If you are publishing a book on the Holocaust or related topics and would like to suggest its inclusion in future New Books roundups, please get in touch via the contact page.
Inclusion of titles on this list does not represent endorsement of their contents.